Namecheap Hot Summer Sale on Domains, Web Hosting & Security
Namecheap Summer Sale, Offers & Discounts 2021 – Up to 84% OFF
Namecheap Summer Sale Offers Sizzling Hot Discounts On Domains, Web Hosting, Web Security, Private Email & VPN Services
Namecheap, one of the largest domain registrar around the globe and one-stop destination for online business and website owners, webmasters, Internet marketers and entrepreneurs, today started a 1 week Summer Sale special deal packed with a hefty lineup of online services and solutions, offered at incredibly hot discounted prices until 3rd August 2021.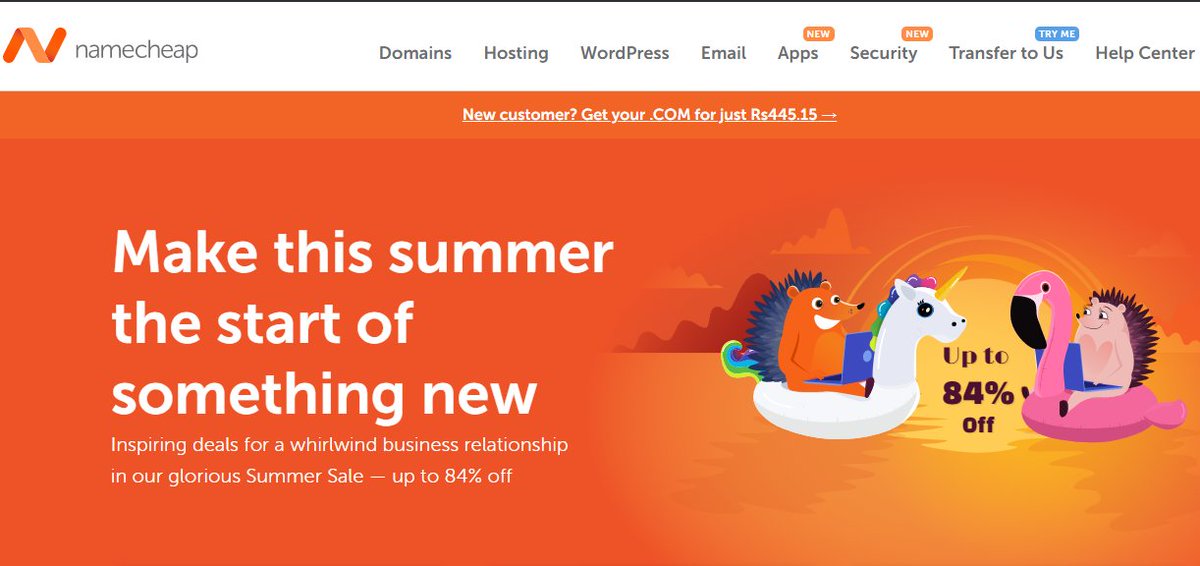 The sultry days of summer are at full speed, and while several are daydreaming of beaches, trips to hill stations and lazy holidays, small-mid size business owners, freelancers, digital marketers, entrepreneurs and bloggers are still crushing and putting hard efforts to take their online business to the next level. To celebrate those businesses and individuals going at a fast pace during the dull warm days of July (Summer Season), Namecheap is offering huge discounts on selected products and services.
Take that novel thought online with up to 84% off on top domain extensions. Get up to 62% discount on web hosting and upto 62% off on web security services. For the people looking for reliable private email solutions, they offer a flat 30% discount on private email services.
Savings on Domains Names (Up to 84% OFF)
New customer? Get your .COM for just Rs.445.15
.COM Domain Rs.594.03/yr – 10% OFF
.CO Domain Rs.296.27/yr – 83% OFF
.NET Domain Rs.668.47/yr – 31% OFF
.ORG Rs.556.81/yr – 42% OFF
.ME Domain Rs.221.83/yr – 84% OFF
.US Domain Rs.184.61/yr – 71% OFF
.IO Domain Rs.2306.13/yr – 23% OFF
Shared Hosting Discounts – Up To 62% OFF
Stellar Hosting (Yearly) Rs964.74/yr – Save 62% + Free domain to get your small website or blog online affordably, in just a few minutes.
Stellar Plus Hosting (Yearly) Rs1679.35/yr – Save 61%Perfect for medium sites with unlimited resources.
Discounts on Managed WordPress Hosting – Up To 50% OFF
EasyWP Starter (Yearly) Rs.1112.13/yr – Ideal for the first website/blog.
EasyWP Turbo (Yearly) Rs.2563.69/yr – Ideal for medium websites.
Discounts on Private Email, SSLs & Namecheap VPN – Up To 65% OFF
Private Email Yearly: Rs.1764.96 – Save 30%
Positive SSL Wildcard Yearly: Rs.445.89/yr – Save 24%
Namecheap VPN Yearly: Rs.893.27 – Save 65%
The Namecheap Summer Sale starts from midnight ET July 27 and runs for an entire week. For more details, or to take advantage of the massive discounts before the Summer sale ends, visit Namecheap's Summer Sale page now.
About Namecheap
Namecheap is a well-known ICANN-accredited registrar for website domain name registration and cheapest web hosting service providers founded in 2000 by Richard Kirkendall. Having nearly 2 decades of experience in the industry, offering world class security, exceptional service and excellent customer support. With more than 13 million web domains under its management for customers around the world, Namecheap is among the top domain name registrars and best web hosting service providers in the world.